Hypermusic Studio guitar lessons Auckland:
At Hypermusic studio I offer quality one on one guitar lessons in Auckland. If you are interested in learning to play the guitar, I offer lessons for both acoustic guitar and electric guitar.
Find out about my lessons and how they can help you start learning guitar, or improve your guitar skills.
What ever skill level you are at, with a bit of practice you will see results in not time at all. Even if you have never touched a guitar, I can help you improve. You will get a firm grasp on all aspects of playing the guitar.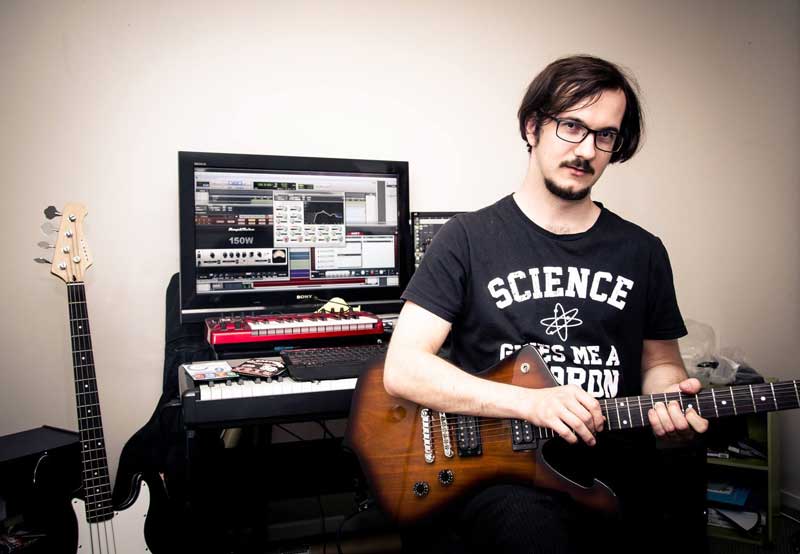 Guitar Lessons In Auckland
Want to learn how to play the guitar? You can! – and it is not as hard as you think.
If you, your child, or someone you know is interested in taking up guitar lessons, this is the place to get started. Hypermusic Studio is building a small team of guitar teachers in the Auckland area who are ready to teach you.
Guitar lessons are focused on the individual students needs and can allow for a wide range of requirements. We feel that it is best for students to learn what they enjoy, while being encouraged to develop their skills and progress at their own pace. This allows you to see, and most importantly, hear results with your guitar playing.
It doesn't matter what type of music you like, you will be able to learn various styles ranging from Pop, Rock, Metal, Jazz and Classical genres.
Learn Acoustic or Electric guitar at any age and skill level, it's never too late to start and there is always something new to learn. Get in contact today to make a booking or find out more information about the lessons.
Learning doesn't have to be boring! A lot of teachers use dated techniques and force you to learn things that you don't want to. If a lesson is fun and enjoyable while still teaching students skills, songs, and techniques related to their goals, the learning process will be much easier.
Each teacher we partner with is interviewed to make sure they actually know what they are doing and can provide you with excellent lessons before booking you with them.
So what are you waiting for?…
Need more info? continue reading to find out more…
Learn Electric & Acoustic Guitar with a quality
 

guitar teacher
Guitar lessons are taught in

 

Auckland

 

(West Auckland, North Shore, Central City).
Both Acoustic and Electric guitar lessons are available.
Guitar lessons for  Adults, Teens and Kids.
No experience needed, lessons are available for any skill level from beginner guitar right through to advanced.
There is also the opportunity to learn music theory and note reading, as well as learning the basics of how to record, edit and mix your own music on a PC/Mac.
What ever skill level you are at, with a bit of practice you will see results in not time at all. Even if you have never touched a guitar, I can help you improve. You will get a firm grasp on all aspects of playing the guitar.
Get in Contact Today to get started.
Information For Beginner Guitarists
If you are new to the guitar and are just starting out, Follow this link for beginner guitarists. I have a page designed especially for beginners to allow you to find out everything you need to know about taking guitar lessons. It can be hard to find the right information about learning to play the guitar and this page aims to make it much easier for you.
In the beginner guitar lessons page you will find helpful articles such as choosing your first guitar and helping you decide on electric or acoustic guitar lessons. If you have any further questions feel free to ask me and I will help you out.
Learn Electric & Acoustic Guitar with a quality guitar teacher.
Guitar lessons are taught within the Auckland area.
Both Acoustic and Electric guitar lessons are available.
Both Adults and Kids lessons available
No Guitar Experience or music skills needed to get started
Contact Hypermusic Studio now For more information and to sign up.
Guitar Lesson Benefits
Find out some of the benefits that come with learning to play the guitar.
Improve Hand-Eye Co-Ordination
Learning the guitar can be very enjoyable, it also helps you improve hand-eye coordination. The guitar requires you to be able to do many things at once. You must use your left and right hands together at the same time to be able to play notes and strum chords. On top of that you will also be reading notes or guitar tablature while playing. Although this sounds complicated, with proper instruction and a bit of practice you will be surprised at how quickly you are capable of learning.
Enjoy Learning a New Musical Skill
Playing an instrument is a great way to have fun, and learning the guitar is a very rewarding instrument to learn. With a bit of practice and some proper instructions from my lessons you will be able to achieve any goals you have with playing the guitar. A lot of people assume that you have to sit through hours of playing boring scales and not have any fun. Although scales are important, what is more important is that you are having fun and that you enjoy what you learn, during my lessons I work with you to make sure that you are getting the most out of your lessons and most importantly… enjoying them!
Learn How to Jam With Anybody
Have you ever wanted to join a band? accompany a singer? or just simply play the guitar with your friends? It can be frustrating and confusing when you need to play your instrument with another musician especially if you are unsure how to go about it. With my experience in bands and writing music with a range of people, I am able to take that knowledge and help you overcome these obstacles. I will teach you the skills you need to be able to play the guitar with anyone and also how to jam along to your own music. Collaborating with other musicians can be very fun and you will learn a lot from others while playing along with them.
Master Difficult Techniques
The guitar is a very versatile instrument allowing you to play a wide range of styles. As you progress with building your skills, there are often techniques that can be very difficult to learn. For some people these techniques could be mastering sweep picking or developing speed picking, for others it can be learning that blues solo or playing a certain chord progression perfectly. There are many more difficult techniques for people at any level and I have been through almost all of them myself. With the help of my lessons I will work towards helping you set goals and develop your guitar playing towards mastering those difficult techniques.
Learn to Read Music (Optionally)
A large majority of people will cringe at the thought of learning to read music, that is understandable and one of the reasons I do not make it compulsory to teach you how to read music in my lessons. There are however a lot of advantages to learning how to read music, it can greatly improve your understanding of the guitar. You will also be able to learn songs much faster because they become a lot clearer once you understand how they work which is why reading music is always encouraged.
If you have been struggling to learn how to read music and learn music theory, I am more than happy to help you out. with the skills I have from composing at University I will help you progress gradually through the steps towards mastering reading music and learning music theory.
Write Your Own Songs and Be Creative!
Writing music is a very fun way to express your creativity and share your ideas. It is very exciting to be able to play your own music on the guitar. There are many outputs in which you can focus your songwriting for example you could be in a band wanting to write your own songs, you may be a singer or know a singer that you want to write for, you may even just want to be able to write music for enjoyment and the pleasure of expressing yourself creatively.
If you have an interest in writing your own songs I am able to help you and show you ways of expressing your ideas. I can show you how to write in a wide range of styles and complexity.
Choosing Your First Guitar
If you are a complete beginner interested in learning to play the guitar, or looking to take up guitar lessons, then choosing your first guitar can be very confusing. The guitar has been around for a relatively short amount of time compared to other instruments, however it's popularity and rapid growth means that you now have a wide range of options to choose from. Not knowing what the best option is for you, or even where to start could be the one thing that is holding you back from jumping in and learning to play. Read the article below to help you with choosing your first guitar.
Sign up for guitar lessons in Auckland here
Acoustic vs Electric Guitar:
What Are They and What is the Difference?
You may have noticed that there are many different types of guitars, each can have varying shapes, styles and colours. Although there are so many variations, guitars can be mostly broken down into two different categories: electric and acoustic. There are a lot of similarities between the two categories for example: they both have six strings (nickel and steel usually) and they both use frets to play notes. You can also do a lot of the same techniques with both of them such as strum chords and pick notes.
Acoustic guitars have larger hollowed out bodies with a round sound hole under the strings. This is to allow vibrations from the strings being played to be projected out of the sound hole, giving you a nice and bright acoustic sound. Acoustic guitars can take a little longer to learn because the strings are thicker and they require a little more hand strength which needs to be built up with practice in order to easily hold down chords comfortably. With the right instruction this will not be much of an issue, it will just take a little practice.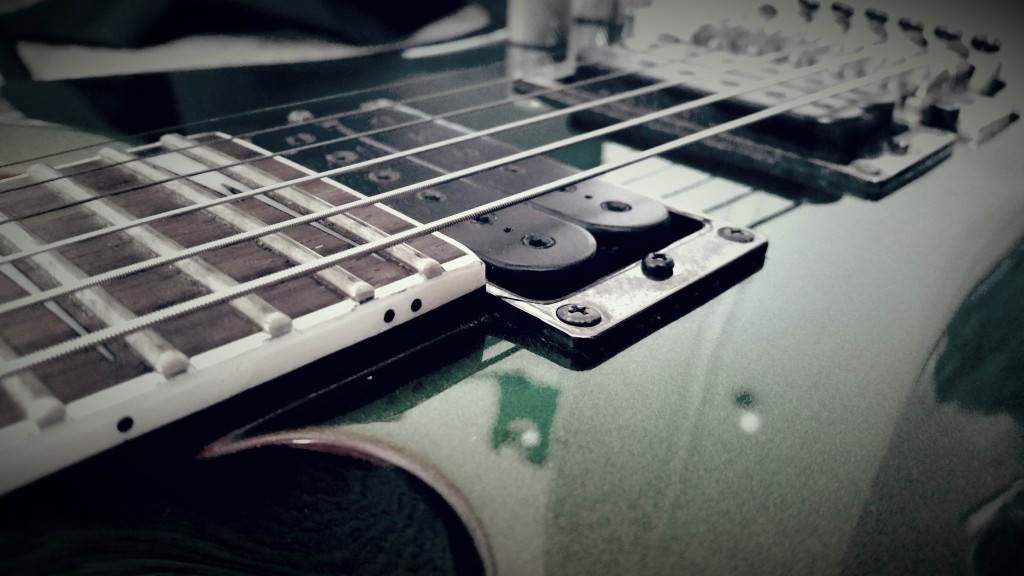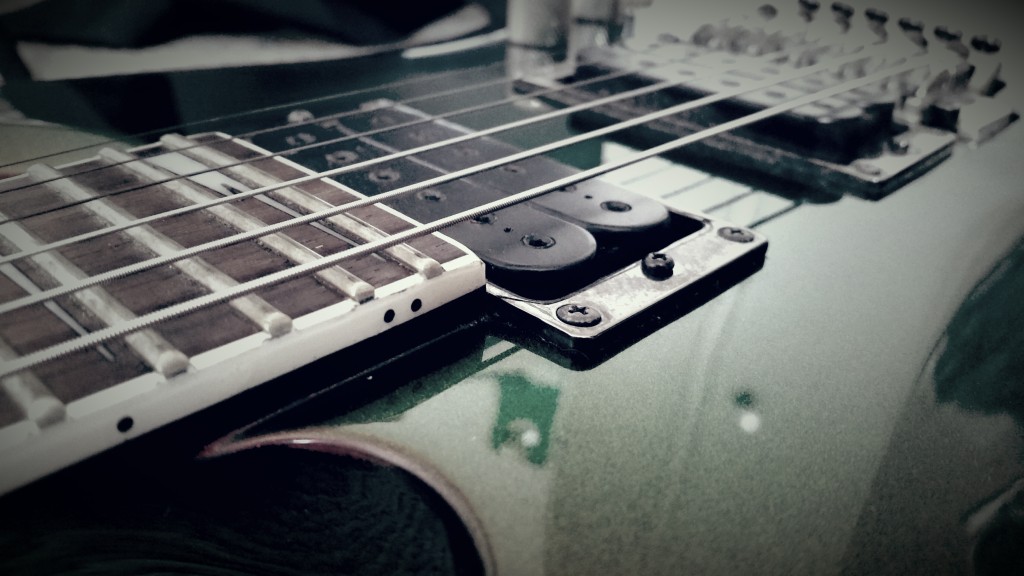 Electric guitars have a much smaller body, most commonly without a sound hole. They require power and an amplifier in order to produce sound. Instead of a sound hole, electric guitars have two to three pickups which magnetically pick up the strings vibrations and turn them into electrical sound signals.
If you have your electric guitar plugged into an amplifier that is switched on, you will hear the sound coming from the speaker within the amplifier. Electric guitars can produce a wide range of tones and effects. Distortion is a common effect (almost a requirement) in rock and metal songs, it is occasionally found in blues as well. You can also make the electric guitar produce a similar sound to an acoustic guitar which is what they were originally made to do.
Acoustic:
Large hollow body with round sound hole to project the sound.
Easy to move around and a bit more portable than electric guitars.
Can take a little longer to learn.
Electric:
Uses pickups instead of a sound hole.
Requires an amplifier to produce and hear the sound properly.
Smaller body.
Somewhat faster to learn.
Usually has more frets than an acoustic guitar.
For Electric and Acoustic guitar lessons, Click on the related links in this sentence to find out more.
So What Guitar Should I choose?
Basically choosing your first guitar comes down to a couple of things:
Do you want a guitar that you can play anytime, anywhere?
Acoustic guitars are a lot more portable than electric guitars. With an electric guitar, if you want anyone to hear what you are playing you will also need to bring your amplifier as well as have access to power. Acoustic guitars can be taken anywhere and are ready to go as soon as you pick them up. Electric guitars can be relatively portable as well depending on how big of an amplifier you have, just keep in mind that you will need access to power and an amplifier to be heard.
What style are you interested in? What music do you want to learn? 
It is important to think about the types of styles and music that you like when choosing your first guitar, if you are into pop, blues, classical etc. Acoustic guitar would be better suited to those styles. If you are into rock and metal or bands such as AC-DC, or Iron Maiden then Electric guitar would probably be a better option. Choosing your first guitar has a lot to do with personal preference and it is a good idea to think about the type of music you want to play. If you are a parent reading this then think about the types of music that you would like to introduce to your kids.
You may hear people say that you must learn acoustic before you can learn electric or the other way around. This is not necessarily true, a lot of people do start on acoustic and eventually move onto electric guitar as their personal preference changes, but there is no rule as to what is best to learn first.
Nylon String/"Classical Guitar" vs Steel String Acoustic Guitar:
After finding out about the two main types of guitars, it is also important to mention that Acoustic guitars also have certain classifications. The most common Acoustic guitar was mentioned in the 'Acoustic vs Electric' paragraph. It has a large hollow body with a sound hole that produces and projects the sound outward. The other main type of acoustic guitar is the nylon stringed guitar, this type
of guitar uses nylon strings which make it a lot easier to use than a steel string guitar.
Nylon stringed acoustic guitars are widely known as being a "classical guitar" because that is the main style of music that they are used for. This does not mean that you must play classical music on a nylon string guitar. They are actually really popular in schools for young kids because they are a lot easier to play, and do not require a lot of hand strength to hold down chords. Anything that can be done on a steel string acoustic can be played on a nylon stringed guitar. Nylon stringed guitars are often slightly smaller and produce a quieter more delicate sound when compared to a steel stringed acoustic.
Acoustic Guitars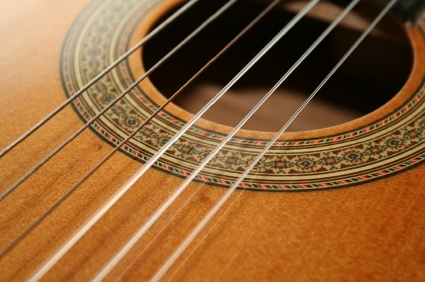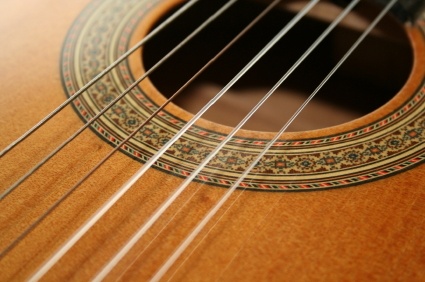 Steel Strings.
Bigger and usually louder than nylon stringed guitars.
More common for pop music.
Nylon Stringed Guitars.

Use nylon strings.
Easier to hold down strings and chords.
Quieter, more delicate sounding.
Often associated with the classical style (but not limited to classical music).
Guitar Price Range:
Up until the last few years, acoustic guitars, mostly nylon stringed guitars used to be a lot cheaper and more affordable than electric guitars. A lot of people who are on a budget would often pick out a nylon stringed acoustic guitar because it was the cheapest and electric guitars were simply too expensive. Now thanks to more affordable brands and companies, the prices are almost even between nylon, electric and acoustic guitars. This is great because it allows beginner guitarists to choose the type of guitar that they like rather than what is the cheapest.
There is no real guide on the price you should spend when choosing your first guitar, providing that you buy it new. A lot of second hand instruments may be a lot cheaper, however they could require additional costs to get them set up correctly. As always if you decide to buy second hand, it is important to ask questions and do your research. Personally I would recommend buying new, especially if you are unsure what to look for. You will get a new instrument that is ready and set up to play, and you will know that there is nothing wrong with it. It is always recommended to change the strings on any guitar you buy as they could have been on that guitar for a few months or even years gathering corrosion.
Cheap guitars are great, they are just as good as expensive guitars and work exactly the same. A beginner guitarist will most likely not know much about tone or other subtle differences that expensive guitars have. Often an expensive guitar is not worth buying until you have enough experience to make your own informed decision on what you want to buy.
A lot of teachers try to discourage students from buying an expensive guitar, mostly to prevent the student from becoming stuck with the guitar should they decide either guitar just isn't really what they want to do or they may want to move from electric to acoustic. This is true for a lot of people and it is important to think carefully about what you want to achieve with learning the guitar. However some students can get the best out of their lessons by purchasing a guitar that they really like or they may have seen their favourite guitarist playing one that they want. This can be a great way to keep the student focused on what their original goal was with taking on guitar lessons.
I would recommend to go to a music store and pick out a few guitars that you might like the look of, then sit down with one even if you can't play yet and pick the one that feels most comfortable for you – almost like picking out a chair or a couch! Each guitar has slightly different weights and sizes, think about the colours and shapes you want or like the look of. If you are happy with all of these things it is a good sign that you will enjoy learning with it a lot more.
Highly recommended to buy new as second-hand guitars often require additional costs to repair or set them up correctly.
There is nothing wrong with picking the cheapest guitar in the shop, they all do the same job.
If you decide on an expensive guitar think carefully about your goals with the guitar.
Prices are relatively similar between acoustic, nylon and electric guitars. Pick what you want to learn.
If your budget allows, pick one that feels the best to hold and sit with, also what you like the look of.
Ask for help. People in music stores aren't there to judge you at how well you play (if at all) they do have a lot of knowledge. Use them.
What Guitar Do I Need If I am Left Handed?:
A lot of people may not have even noticed, but unlike a pencil, there is actually a difference between left and right handed guitars. A right handed guitar is designed for you to use your right hand to do the strumming, and your left hand holds the chords. Left handed guitars are designed the opposite way with your left hand strumming, and your right hand holding chords. If you are right handed, you will most likely feel most comfortable with a right handed guitar.
If you are left handed, you do have a bit of a choice to make when choosing your first guitar. Most guitars are designed for right handed people, as you may know most people are right handed. A music store may stock 90% right handed guitars and only 10% left handed guitars. This means it can be a little harder to find what you want, but not impossible. Another point to consider is that if you are planning on playing with other guitarists you will most likely only be able to use your own instrument as it is pretty likely that they will be right handed.
The best thing to do first is go to a music store and ask for two of the same guitars only one right handed and the other left handed. Even if you have never held a guitar before, you will get a pretty good idea as to which feels most comfortable. It is very important to find out which feels the most comfortable when choosing your first guitar over any other factor. Everyone is different and you really do need to sit down with a couple of guitars to feel what is best for you. If you can't make up your mind, I would recommend going away and coming back the next day or another time to get a fresh start and it may help make the differences seem more obvious.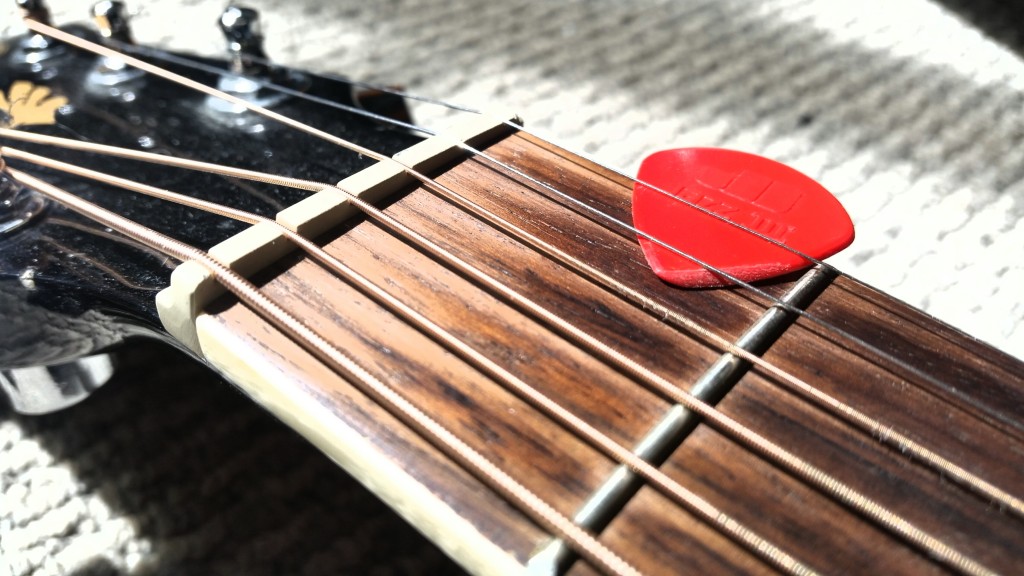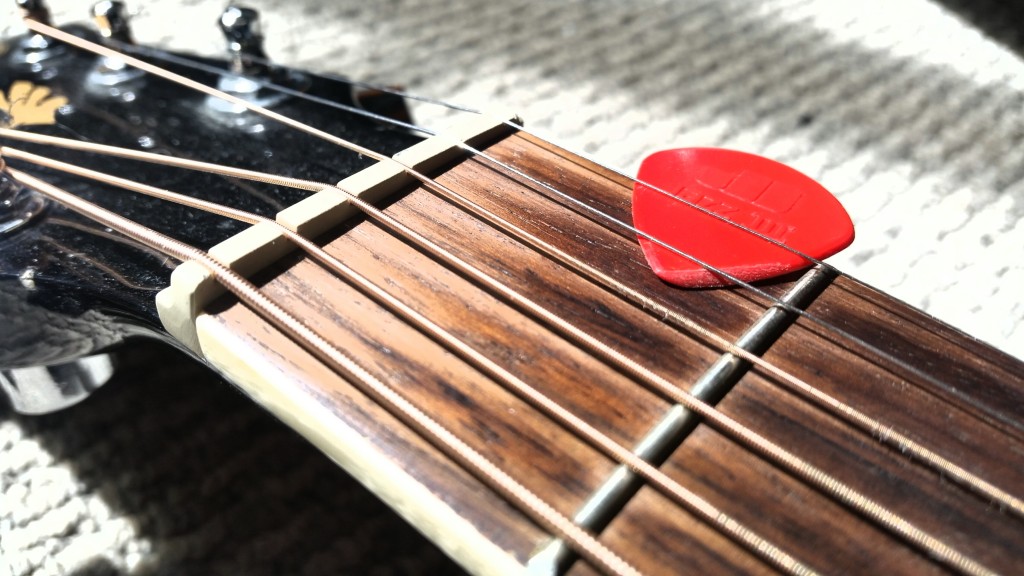 Right handed people tend to use right handed guitars.
80-90% of guitars are right handed.
If you are left handed, sit down in a music store and compare what fells best to hold.
Go with what feels right.
If you are unsure, ask someone in a music store, they get questions like that all the time and will be happy to help.
Choosing Your First Guitar:
Hopefully by now you should have a better understanding of the different types of guitars and are more comfortable choosing your first guitar. As you read through the article it now should be clear that you should try to go for one that is comfortable, appealing to you. Most likely if you bought it new then it will sound great too.
If you are still unsure about what to pick when choosing your first guitar feel free to contact me and ask any questions regarding guitars.
I offer special discounts for guitars and accessories if you sign up for my guitar lessons. If you are considering lessons and have not yet picked out a guitar or a guitar teacher,
contact me to discuss your goals and I will be happy to help you.
Get in contact today to book your lesson, or ask any questions you have.